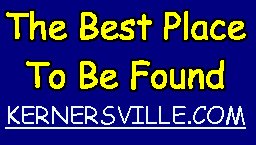 KERNERSVILLE.COM
Independently Promoting Kernersville!
Welcome Message:
Quick Playback (6k .ra) or

(69K .wav)

The concept and goals of KERNERSVILLE.COM are simple, yet powerful. Your input is requested and appreciated. KERNERSVILLE.COM is owned by a Kernersville-based business and we're proud to be online to promote all the good stuff in the Kernersville Area! We get thousands of visits from the Kernersville Area, as well as other parts of the world!

---
CONCEPT & GOALS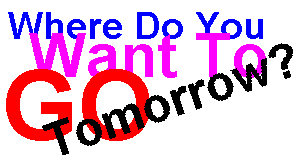 Founder's Personal Notes:
When I first decided to establish a permanent domain on the World Wide Web for my business, I knew it would take a lot of hard work and long hours to create a Web Site that people would want to come back to again and again. Once I made that commitment, I knew that I had to share the benefits of these labors with others in our community. Not everyone who needs a Web presence has the knowledge, time, and inclinationto design, maintain and promote it. Thus, KERNERSVILLE.COM was born. This is a place where everyone involved can be enriched by the promotion and contributions of others. I believe the saying is accurate that proclaims, "If you help enough other people prosper, you will automatically be prosperous." That is the concept behind KERNERSVILLE.COM.
Bob Bennett
Use KERNERSVILLE.COM as your Browser's HOME or START page!
We are:
A launching pad to the WWW
A Kernersville area information center
Promoting good stuff in our town and area
Providing a low cost World Wide Web presence
We're concentrating only on the Kernersville Area, and
Although we'll promote them heavily, we're not limited to businesses.
We certainly want to direct newcomers to local businesses, government services, churches, educational institutions, andother elements of the community.

But we also want to have on-line folks develop the habit of looking around our town FIRST when they want to spend a little money, have some fun, or enhance their spiritual lives.


KERNERSVILLE.COM is a Great Home Page
So if you're from anywhere near Kernersville, and even if you're not, go ahead and set http://www.kernersville.com as your Browser's HOME page now! Some web browsers call this the "default" or "start" page, too. Whatever the term, it will automatically load http://www.kernersville.com first and take you anywhere in town, or anywhere in the world within seconds!
---
Up To Main KERNERSVILLE.COM Page
A Look at a couple FLYERS promoting K.C

Page created by Video Works Web Designs
Comments? Questions? Suggestions?


Note of interest: From January 1 through October 11, 1997, we've identified visits from each of these places to one or more of our pages:
Antigua and Barbuda
Argentina
Austria
Australia
Bahrain
Bahamas
Belgium
Bermuda
Bolivia
Brazil
Bulgaria
Canada
Chile
Colombia
Costa Rica
Croatia (Hrvatska)
Cyprus
Czech Republic
Denmark
Dominican Republic
Egypt
Estonia
Finland
France
Germany
Gibraltar
Greece
Hong Kong
Hrvatska (Croatia)
Hungary
Iceland
India
Indonesia
Ireland
Israel
Italy
Japan
Kazakhstan
Kenya
Lebanon
Lithuania
Luxembourg
Malaysia
Mexico
Netherlands
Norway
New Caledonia
New Zealand (Aotearoa)
Oman
Paraguay
Philippines
Poland
Portugal
Romania
Russian Federation
Singapore
Slovak Republic
Slovenia
Spain
Swaziland
Sweden
Switzerland
South Africa
South Korea
Thailand
Trinidad and Tobago
Turkey
Taiwan
USSR (former)
Ukraine
United Arab Emirates
United Kingdom
United States
Uruguay
Venezuela
Yugoslavia
... But, of course, the majority of our visits still come from good old Kernersville, North Carolina!Code: 961030[an error occurred while processing this directive] P2